Against the sellout of the city!
For the preservation of Hermannstraße 48!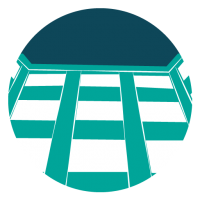 At the start of 2021 we found out that our house, Hermannstraße 48, had been sold.
In light of the recent developments in Schillerkiez (and the whole of Berlin) it was quickly clear that this was bad news. Displacement, gentrification and real estate speculation have been destroying our neighbourhood for years. Now gentrification had arrived right on our doorstep.
For us, there was never any doubt that we would do everything to prevent luxury renovation, conversion to condominiums and termination of rental contracts. We therefore asked the district of Neukölln to make use of the right of first refusal ('Vorkaufsrecht').
There followed two very stressful and hard-working months, in which we organised ourselves and built networks with other house communities. Together with the Mietshäuser Syndikat and many supporters who offered direct loans, we were finally able to persuade both the bank and the district of Neukölln to let us buy Hermannstraße 48 ourselves!
At the end of February we were able to celebrate a first, partial success: the district exercised the right of first refusal in our favour. The possibility of turning the H48 into a communally run project as part of the Mietshäuser Syndikat was now within touching distance.
Both the seller and the buyer filed a lawsuit against the district's decision to make us a third-party buyer in September 2021.
Two months later, at the start of November 2021 – while the lawsuit was still ongoing, a judgement from the Federal Administrative Court dealt us a bitter blow. This judgement rendered the entire communal right of first refusal across the country as good as useless. Since then, it can no longer be used as an instrument against displacement and to protect renters. This is not only a catastrophe for all houses that will be sold in the future, but also means insecurity for the houses that have so far been protected by avoidance agreements ('Abwendungsvereinbarungen').
We have therefore joined the initiative 'New right of first refusal now!' Our joint press release has already been signed by countless housing associations and urban policy initiatives.
More information is available at neues-vorkaufsrecht.jetzt (so far only available in German).
The 'traffic light' coalition in the German government has so far done nothing to restore a legally secure right of first refusal.
To our great regret, the district decided in early 2022 to withdraw the notification of pre-purchase ('Vorkaufsbescheid').
The sale to a real estate company thus became legally binding.
We will, however, not give up, but will continue to fight for our home and for the right to stay of those who live here.
Who are we and what are we fighting for?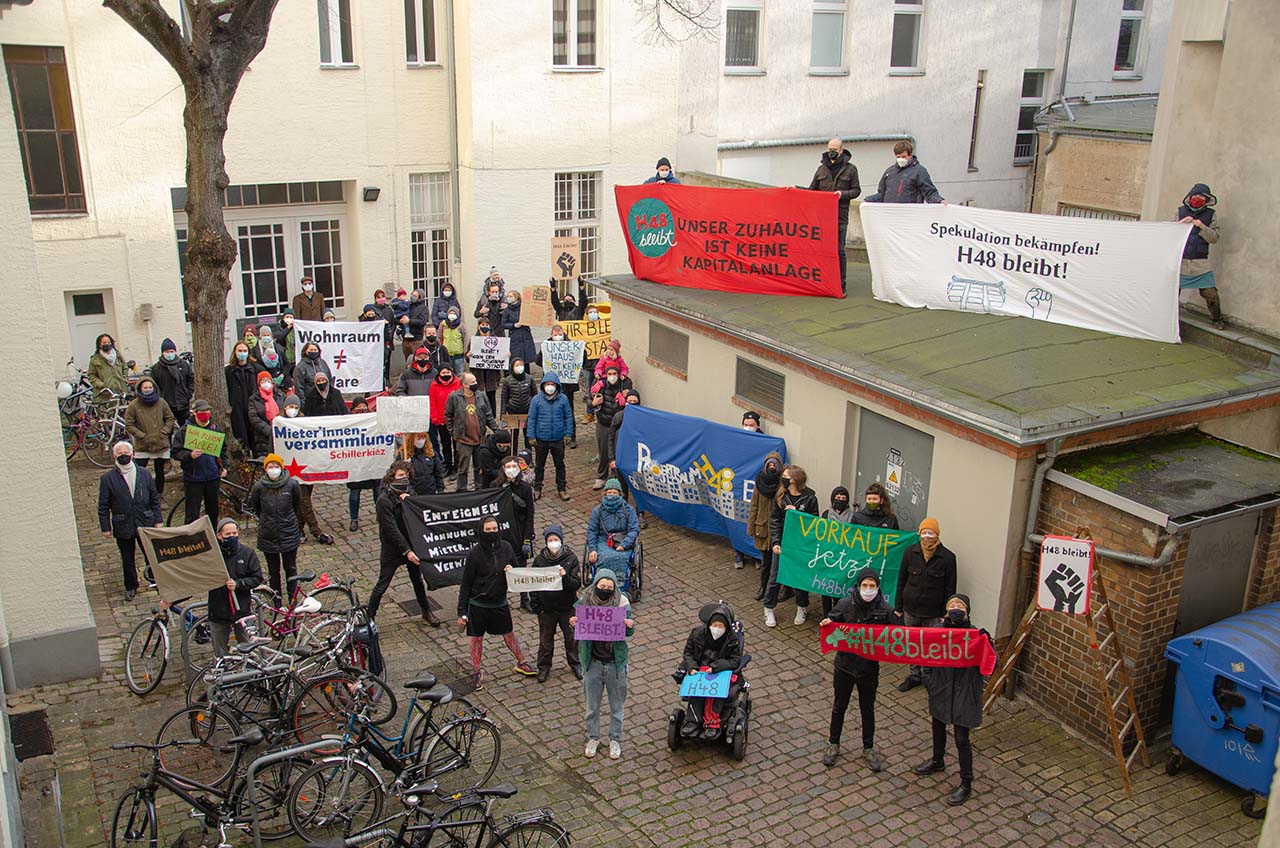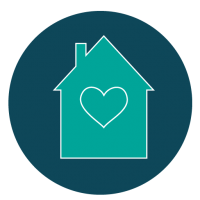 More than 140 people live and work at Hermannstraße 48 – some of them have been doing so for decades. H48 houses families, individuals and large shared flats. There are also various businesses such as a wood workshop, a hairdressing salon, locksmiths/shoemakers and therapy centers.
Our tenant community is a cross-section of Neukölln neighborhoods: pensioners, children, students, wage labourers, unemployed and self-employed persons, artists and craftspeople. Flint (Women*, Lesbian*, Inter*, Non-binary* and Trans*) and BIPoC (Black, Indigenous and People of Color) persons live here, as well as disabled persons and people who simply cannot afford a rent increase. For all of us, Hermannstraße 48 is our home and shelter.
We enjoy living and working here and want to continue to do so. Other affordable residential or commercial space will probably no longer be available to any of us.
The inhabitants of the factory building in the 2nd courtyard find themselves in a particularly precarious situation. The large shared flats, which have in some cases been here for 40 years, only have commercial rental contracts. These offer no cancellation protection.
It doesn't take much imagination to predict what investors want to do here: kick out the large shared flats and replace them with luxury lofts or start-ups.
One shared flat has already had its rental contract cancelled, and its renters were forcibly evicted when they didn't want to hand over the keys. It is important for us to preserve these spaces, which enable alternative living possibilities beyond the nuclear family and one-person apartments.
In addition to apartments and businesses, H48 is also home to the project room, financed on a solidarity basis. It is managed by various initiatives and groups and is used for lectures, film screenings, discussions and many other events. The space is also used by the house community for regular meetups and table football sessions (not during the pandemic, of course). 
The project room is an important political networking space in and for the neighbourhood. Such spaces have, it goes without saying, consistently been threatened in the past and many have faced eviction.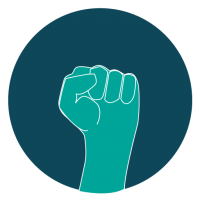 We participate in 48h Neukölln!
Follow us on Twitter & Instagram